gosh i've been so wanting to post. but i'm currently busy with IMPIAN ILLYANA...
*well invading G&G is just not enough... I MUST attack the entire Malaysia FILMs' industry... HAHAHAHA*
but only after episode 25, my magic starts... the beginning... god knows who did it. i don't. HAHA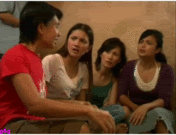 hahahahaha i made it. finally made it. took me a while but i'm sure it's worth your laugh. HEHE.
putri is like a flash man! look at how she RUNs...
and then catch sarah's expression... HAHAHA... hilarious...
the best moment... is when *Ling Tang who plays the pekerja seks cina 1* takes out a pack of sanitary pad. LOL. *i should have made a spoiler... something like... zie got a bag of drugs and she went WILD haha*
yeah anyways... observe Zie's face... it looks like she just found the holy grail/pandora box... hahaha...
BUT the best expression was on Ling's face *celina khor*... just look at her!!! so funny!!! i burst laughing everytime! gosh... it's crazy...

talking about Celina Khor... i did a fashion spread with her long time ago... but it's out this month in FEMININE... well it's a chinese mag la... i also don't know what they wrote about her *i'm a banana so sue me* anyways here are the pictures... it's not the full version or the actual ones *they have been re-edited* but they'll do... if you wanna know more... go check it out at your nearest news stand... *and while you are doing so, go check out KLUE i'm in it... HAHAHA along with razif and 6 other boys*



photography by kenneth lim of adept studio, make-up by yap li wei, concept and styling by yours truly. hehe


black_chix: kan! but i guess it worked out fine la!
limaubasi: sarcastic la you. HAHA
kombat: thanks i loved that t-shirt too.
the previously Anonymous lurker: THANKS!!! but having your name/nick here would be cool too!!!
-m-: i rather GET that video than having to spend another 1 hours typing. i want... SLEEP! hahaha. i'll go rob it... or... i secretly show it... HAHAHAHA...
niksu: yea MALAYSIA boleh! YES sadly but it's true... only 3 more to go... le sigh...
one: you're so funny!!! hahaha... i can't imagine what your kids asked... LOL.
black_chix: haha i'm serious... it's so clean!
Hot ChocoLate: he's not dato K...
Anonymous: really he's NOT... stop it. haha.

NOW a bitchy part of me emerges...

Anonymous but proud Student of LUCT: well i'm sorry we HAD to use your place. we weren't given a choice either! yeah it's a stupid lame-ass series, so why not YOU make something fetiche for us MALAYSIAN to watch, whoever you are... and besides... i wrote that remark here to tell the public, it was never meant to complain about LUCT and their obessive branding... i know we have to and we did whatever we could to advertise the brand LIM KOK WING in almost every single frame whenever we are in LUCT, the focus here darling is WHY ARE THEY MY and make-up ADVISORs when they don't QUALIFY to advise me/us??? *it's an even CHEAP move to put yourself ANONYMOUS*

i love bit*ching. keep them coming. =)

if you must know. there were plenty of times when we all wanted to quit this production because it was just too much work. *not to mention last mintue scripts, last minute schedules, etc* we shot everyday, like mad and hectic. most of us, we had no contract to say we HAVE to continue shooting. even some of the cast wanted to like... just KILL my role, i'm done with playing *name of role*!!! but it was because of YOU, your continous support, and articles that we read on the media that gave us strength to continue this production.
from the crew of g&g, i thank all of you for your support & love.
and thanks Jo, Peng, Mona, Becky, Andrea, Raymond, *who else have i not pissed off on set???* for baring with me. HOHOHO.
MUAKS!

OH... before i conclude... interesting fact behind the scene... the "saya datang ni" scene was initially suppose to be done by J, Fasha, but because of her schedule... we had to get Zie to do it. hehe.