today there's a lot of colour doubles... and i mean a lot... everyone was wearing the same colour clothing to set... and this actually happens a lot... like there's this time everyone wore orange... YES orange... *they have no sense of style without me*
enjoy la...



rafidah & bernard does the RED team.



fazura & sazzy does the PURPLE team.



fazura & tini does the PURPLE team.



sazzy & tini does the GREEN team.



sazzy: thanks faz for doing my hair! eh camera... smiles!
fazura: no probs sazzy, anytime... *oh all the fugly damage hair*
kekekeke



POLICE station? *in episode 10... lots of drama! and i mean a lot*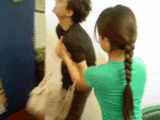 sazzy molests ash... resulting...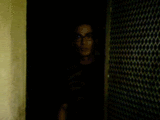 ash gets the lock up instead of sazzy... how unfair... he's the victim but he get's to be dumped in instead...

why don't i do video instead? with audio kan... well i might next time... getting lazy turning all the pictures into moving ones... but then again... i'm even lazier loading a video to youtube. we'll see how it goes... ;o)
MUAKS!