sorry i can't blog as often now. super busy with shoots. i don't just do g&g if you must know. so let's begin and end this quick...



as promised... here's the couple dancing... it's such a fun scene... which episode? well stay tune to find out... hehe.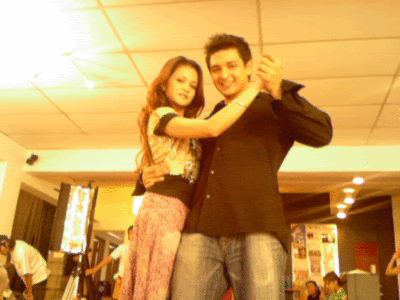 haikal and sazzy. them doing their whatever it's called dance thing. and me, the attention whore. ;o)

am glad that everyone enjoyed the previous episode, what is to be expected from us? more DRAMA... it's like... so drama... yeah since all the drama drama begins from episode 6... what will happen to putri and reza... let's just say there's a ring involve in the ending of episode 12... so go figure... HEHEHE... is this the end of g&g? well i don't know seriously... i partly hope so... so we wouldn't have to face season 2... hahahaha... but it seems like we might have to face season 2... LOL... ;o)
thanks for all your support and ayshy thanks for your support all the way from singapore, thou i really don't know what you would want me to do... and YES for the last time people... i heard that there will be dvd's for G&G... but will be out only early next year... latest... and YES that's it. i'm tired. busy and a little lazy. cheers! peace y'all... stay tune i'll throw in another spoiler... like... so spoil spoil wan... but in my twisted version... hehe...